Anisa Grantham: Teaching Others To Live Happy and Healthy

Story by Susan Lee
Photos by Tonya Chester Perry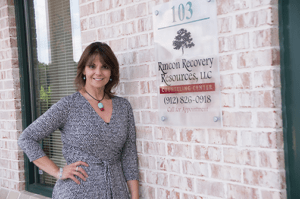 For many of us, the idea of relaxing includes a glass of wine or perhaps a dessert. For Anisa Grantham, if a park is nearby she hops on a swing. "There's something about a swing," she says. "It's freedom to me."
Anisa doesn't have the option of relieving stress by turning to alcohol or food. Not only is she a Licensed Professional Counselor and a National Certified Addiction Counselor, she's also been dealing personally with addiction since she was in her early teens.
Growing up in Connecticut, the middle child in a traditional Italian family, Anisa's life was filled with family gatherings and celebrations which, of course, included plenty of food and drink. But when she was 10 years old, her parents divorced and it wasn't long before Anisa began struggling with overeating and alcohol abuse.
By the age of 15, she weighed 250 pounds and was a daily drinker. She was first introduced to a 12-step recovery program a few years later when she went to live with her father in Alabama and her drinking problem seemed to be under control.
In 1988, Anisa enrolled at Georgia Southern University. The following year, however, she fell while working at a restaurant and suffered a severe back injury that left her out of work and on Workers Compensation. She began eating and drinking heavily. At the urging of her roommate, Anisa immediately looked for a 12-step meeting and has now been sober for more than 26 years. She graduated in 1994 with a degree in psychology and began working as a substance abuse counselor. She then received her master's degree in May of 1997.
Over the next few years, she struggled with depression and her weight continued to go up. After a brief stint as manager of a small treatment facility in Florida, she got a job as an addiction counselor back in Savannah. In 2000, she met her husband, Wayne and they were married one year later, when she weighed 300 pounds. "He never saw the outside," says Anisa. "He loved me for me. The outside didn't matter to him."
By 2002, at a weight of 318 pounds, she knew it was time for a change. She had gastric bypass surgery in July of 2002 and lost 160 pounds in the first 18 months after surgery. Anisa maintained this weight loss over the next 6 years until, in 2008, she had emergency surgery on her neck and she wasn't able to exercise (which she calls "moving on purpose"). She regained 25 pounds.
In 2004, Memorial Bariatrics opened and Anisa worked as a food addiction counselor with them until 2006, when she launched her private practice, Rincon Recovery Resources.
Still struggling to lose the additional weight she regained, it was in January of 2009 that Anisa happened to meet the founders of Bariatric Support Centers International and was introduced to their book, "The Success Habits of Weight Loss Surgery Patients."
The program worked. She lost the weight and has been able to maintain her healthy weight ever since. Soon after, Anisa became the first person licensed in bariatric education by the Bariatric Support Centers International. She now provides bariatric workshops at her counseling practice in Rincon, which are now required by Memorial for anyone enrolled in their bariatric program.
Since being featured in Effingham Magazine in 2013, Anisa has experienced quite a few losses and has learned valuable lessons. In December 2013, she had to put to sleep her 17-year-old dog, Rebos, "It was a devastating time for us," she says. "We have hardwood floors, and the house was so quiet, no paws hitting the floor, no jingle of his tags. The silence was deafening."
Because Rebos had been a gift from friends while Anisa had been in graduate school and going through a difficult time, all of those memories came flooding back. "There were days I didn't want to get out of bed," she recalls. "I had to make conscious decisions not to compulsively eat food that would be damaging to my body."
Six months later, her father passed away. "I'm grateful that I was able to be with my dad the last week of his life and that I was with him when he died," says Anisa. "I stood in his Hospice room and said 'I don't drink, use drugs, smoke, or eat…the only thing I can do is feel, the other f-word.'"
She explains that all of those substances numb feelings and she has to trust that she has everything she needs to internally and spiritually take care of herself. "I no longer need to numb myself," she says. "I can work though those feelings without getting stuck in them.  Grief, anger, depression, they are all part of life and I gave myself permission to feel them. I have struggled with anger at the disease of alcoholism and that I was unable to save the life of the first man that I ever loved. It wasn't until most recently that I was able to work through this anger with some good old fashioned experiential therapy."
According to Anisa, alcoholism and drug addiction destroys not only those in its direct path, but also the lives of their family members. As a result, Rincon Recovery Resources now offers a special program for families, "The Realities of Loving Someone with Addiction". This educational seminar focuses on the disease of addiction, codependency, how to set healthy boundaries, and self-care.
And this past year, Anisa faced yet another challenge when her husband was diagnosed with a debilitating chronic autoimmune disease that has no cure and without treatment will get progressively worse.
"When I was struggling to get my business going, my husband made it all possible," she says. "When I wasn't able to take a paycheck or needed help with rent or paying vendors, he believed in me and made it happen. And now he needs me. Thankfully, God saw fit to provide me with a dream job as Bariatric Coordinator for Memorial Bariatrics, with whom I have had a relationship for many years."
The position provides a steady salary as well as the health insurance the couple desperately needed to cover Wayne's treatments, including a 10-day hospital stint in August. "He is my gift from God and I would do whatever possible to make our lives easier," says Anisa.
In addition to her job at Memorial, Anisa continues to provide counseling for pre-op and post-op bariatric patients and maintains her private practice, which is thriving.
One of the bright spots in Anisa's life of late came in the form of a rescue dog, which she feels was sent to them by their late dog Rebos. "He knew how I needed to be loved," she says, "and when it was time, the universe brought us Snickers."
She adds, "Yes, God's sense of humor. A food addict adopted a dog that came with the name Snickers."